Susan M. Halpern

Education
J.D., cum laude, Albany Law School of Union University (1983)
B.S., summa cum laude, University of Maryland (1980)
Professional Affiliations
Member, American Bar Association
Member, Dallas Bar Association
Member, Board of Trustees, Albany Law School of Union University (2001-2011)
Member, The College of the State Bar of Texas
Former Barrister, Patrick E. Higginbotham Inn of Court
Admitted to practice before:
All federal courts in Texas
United States Court of Appeals for the Fifth Circuit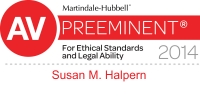 Professional History
During Ms. Halpern's more than 40 years of practice, she has successfully litigated a broad range of commercial matters involving banking and lender liability issues, bankruptcy issues, all manner of complex contracts, trade secrets, Texas Deceptive Trade Practices Act issues, partnership and corporate dissolutions, veil piercing theories, real estate and title issues, business aviation issues, including leases, liens, freight forwarding and engine maintenance, landlord tenant issues, alarm monitoring, embezzlement, fraud and the Uniform Commercial Code. Ms. Halpern has also handled and tried countless injunction matters involving commercial disputes. In addition, Ms. Halpern has assisted in family law matters involving significant assets, focusing on business and stock option valuation issues, but also extending to more traditional issues such as property division and custody. Ms. Halpern's career has included roles at the following firms:
The Halpern Law Firm PLLC (2009-present) - Founding Partner
Culp, Dyer & Halpern LLP (2007-2008) - Partner
Gardere Wynne Sewell LLP (1985-2007) - Partner, Trial Section
Glast, Miller & Allen (1983-1985) - Associate
Ms. Halpern's clients have included entities involved in various aspects of the aviation industry, banks and other lending institutions, a major manufacturer of mail sorting equipment, a major distributor of recreational motor sports equipment and accessories, an educational music software company, and a large distributor of electronic parts. Ms. Halpern also has experience working with a variety of small and medium-sized business clients, providing advice regarding many aspects of their business operations.
Dangerous Dog Litigation
Ms. Halpern has developed a specialty defending dangerous dog cases. Her work in this area has saved a number of animals from certain and unjustified euthenasia at the hands of governmental authorities. In addition, Ms. Halpern has spared clients from the onerous statutory requirements that result from unjustified dangerous dog findings. Ms. Halpern is knowledgeable regarding Texas law in this area, and can help dog owners navigate the many variations that exist in countless local ordinances.
Teaching Experience
Ms. Halpern has been teaching trial and advocacy skills to law students and lawyers in a variety of settings since 2000. During that time, Ms. Halpern has served as an adjunct instructor for Trial Advocacy at Southern Methodist University's Dedman School of Law, and is currently the lead instructor for Trial Advocacy in the spring semester of each year. Ms. Halpern has also taught at many National Institute for Trial Advocacy (NITA) programs, including:
National Trial Program (Team Leader (2005), Assistant Team Leader (2001))
Southern Regional Trial Program (Instructor (2003))
Southern Deposition Program (Team Leader (2004-present), Faculty (2001-2003))
Rocky Mountain Deposition Program (Team Leader (2008-2012), Faculty (2006-2007))
Ms. Halpern has served as a NITA Program Director and also as a member of the faculty for a significant number of in-house programs at firms and organizations throughout the country, dealing with depositions, trial skills, motion practice and advocacy, fact investigation and negotiations.
Publications
Co-author, "Trial Structure and Conduct," Federal Civil Procedure & Evidence During Trial, Matthew J. Canavan Ed.
Author, "Federal Rule 81(c) and Jury Demand in A Removed Action: A Procedural Trap for the Unwary," Vol. 47 Albany Law Review, No. 623, 1983.
Author, "Research is Fun (and Important), Even If You Are Getting Paid To Do It," Rantings of a Partner...and Pushback from the Associate, Bart L. Greenwald, Ed., 2011.
Author, "Expert Discovery: Something Old and Something New," Mass Torts Litigation, Summer 2011, Vol. 9, No. 4.